After my camp in Fundy National Park, I road my bike up to Rt 1 south, then back to the Canadian Border.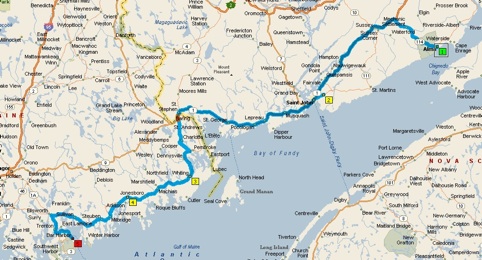 From there I took "Coastal" Rt-1 back to Bar Harbor. There is not alot to report today. It was just a nice leasurely ride back down through Maine and in to Bar Harbor. I set up camp again at the Blackwoods Campground in Acadia National Park.
Next I plan to continue to take Rt. 1 down the Maine and New Hampshire coasts and visit some of the towns along the way.
A part for my motorcycle is being overnighted to a friend of mine in Exeter, NH. The plan is to pick the part up there and stay the night.