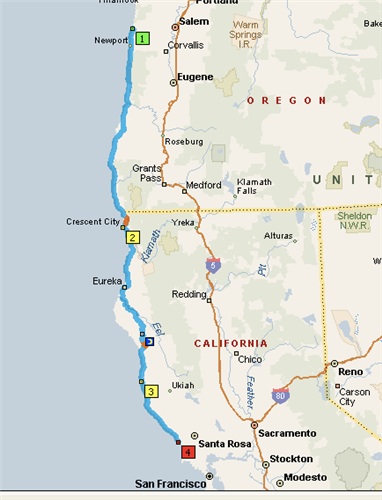 Man, I have to tell you, we have some beautiful country. I've wanted to go so many places outside the U.S., but there is alot of country to satisfy you right here. Over the last 3 or 4 days, (I've lost track) I have been going down the Oregon and California coast. (The Pacific Coast Hwy) on RT-101 in Oregon and Rt-1 in California. I really took my time, sometimes making only 100 miles down the stretch.
I stayed in Lincoln, City OR for two days. The second day I road up Portland to check some of the city out and get supplies.
I went to REI and bought a much needed wool liner for my sleeping bag. Best purchase I made. I also got a JetBoil stove for making coffee. I learned I still hate instant coffee. Hot chocolate suffices though.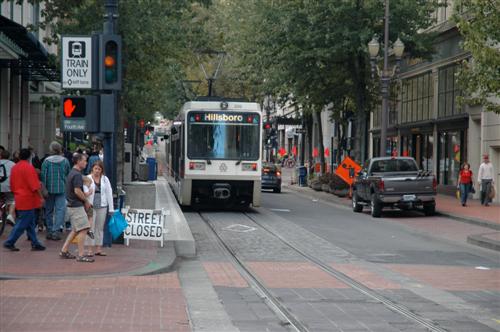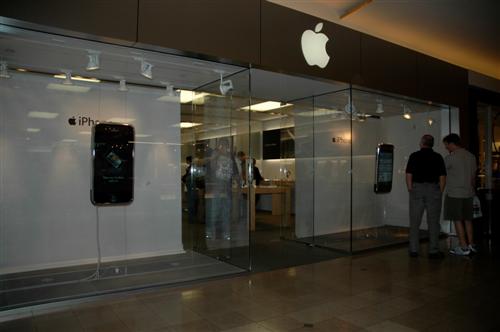 I road around the city of Portland for a while. It's quite pretty. I found an Apple Store. Computer stores are my form of "crack" so I went in and bought 2 protect screens for my Iphone. $15 for two pieces of plastic wrap basically. RIPOFF.
The next day I rode south from Lincoln City and stopped off to see the coast along the way. Breath-taking!!! Below are some shots from Rocky Point.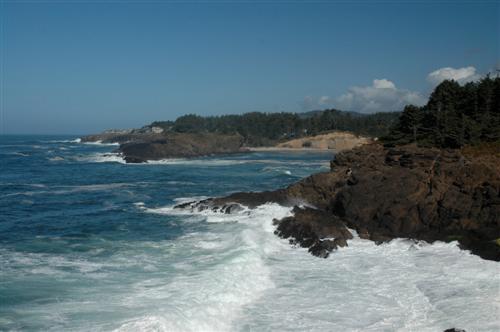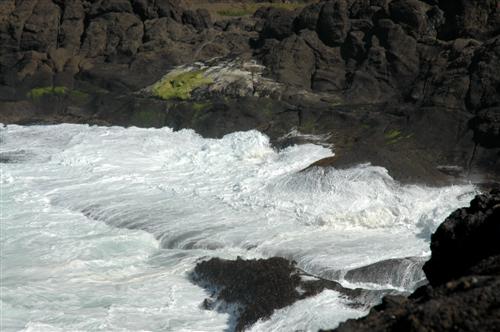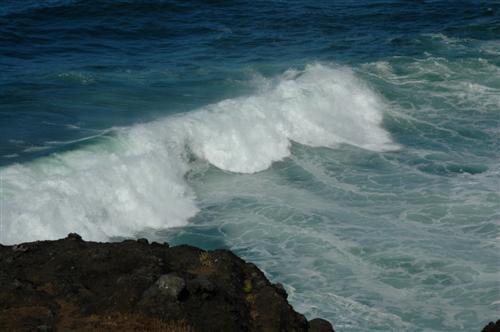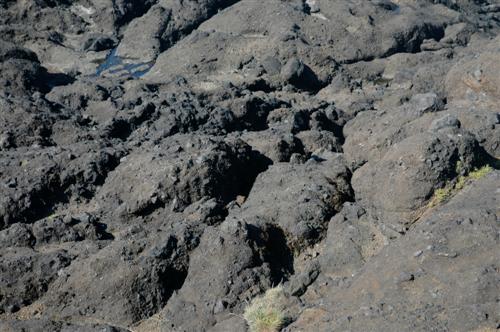 After that I headed south and stopped at the Yaquina Head Light Station. (I'm a sucker for a lighthouse too.)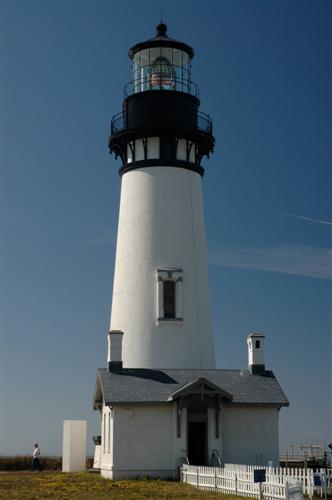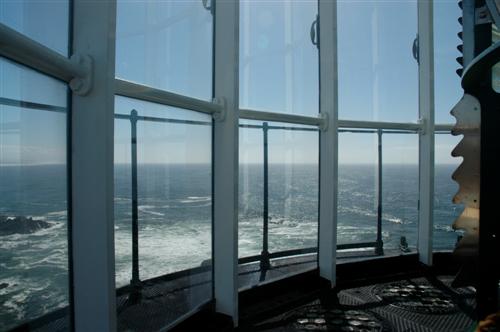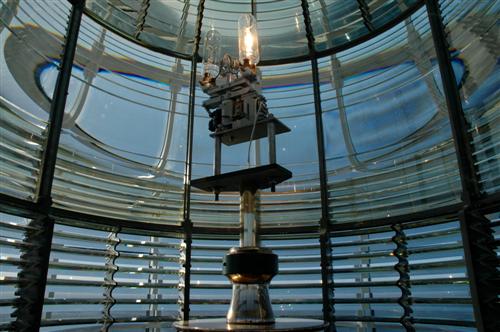 I overnighted at a campsite about 25 miles north of Coos Bay in Oregon.
I camped near the beach so I took the time to watch the sunset.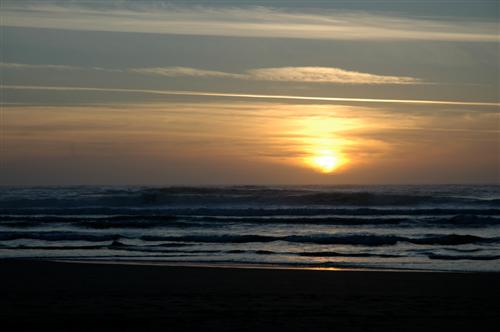 The next day I made it down to the Redwood Natl. Forest. I found a good campsite deep in the woods. (Bigfoot Country)
I came across this poor COLD kitty outside a restaurant near a harbor that evening. I would taken the poor guy home if I had a car. (Branson, you would take him…Ha)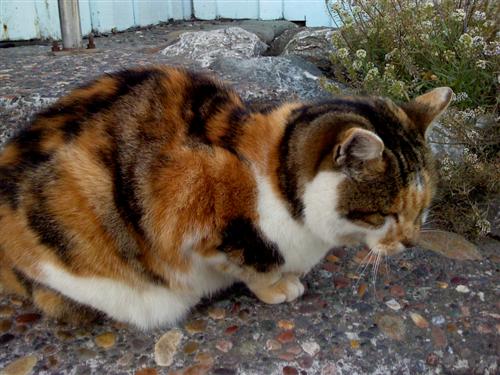 I met some bikers at my campsite later than night. Harley people.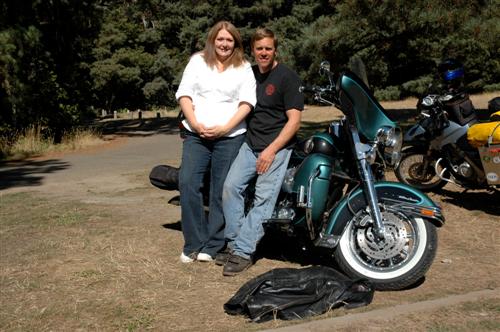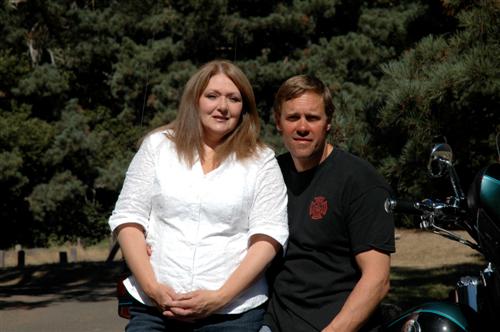 Greg and Debbie Langlow were riding down from outside Seattle for a week. Greg is a firefighter and Debbie, an accountant.
They were really great people. Greg knows his maps and Debbie was a gourmet with a camp stove.
I crossed paths with them over the next two days while heading south and we decided to shared campsites. It was nice to have company in the evening and great company.
After getting into California, I got on Rt 101 and road Rt 1. 22 miles of twists and turns. Honestly it got old pretty fast. The California coast was as pretty as Oregon's.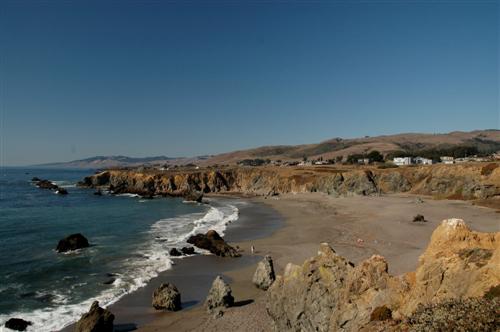 I found another lighthouse at Point Arena.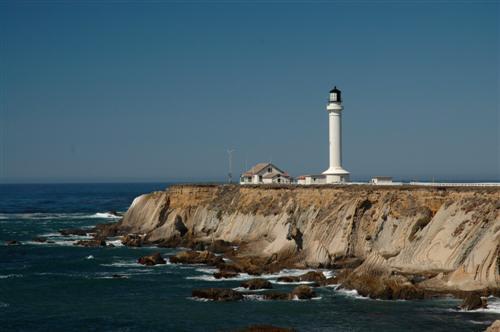 Honestly I got cheap on this one and didn't want to pay the fee so I just took in the vistas from outside the gate. Actually that is what most people did.
Yesterday I stayed at Bodega Bay, CA in a campsite near the water. It was so peaceful last night. I sat around the fire with Greg, Debbie and Rick. (A friend they met up with.) We drank beer and ate delicious tacos that Debbie made. When I went to sleep, I could hear waves crashing and a fog horn in the distance. I have no pictures, I am afraid. My camera wasn't working. I am hoping the battery just died. I'm charging it now, so I guess I will see.
I plan to head into Bodega and look around. This was where Alfred Hitchcock filmed the movie, "The Birds"
The plan today is to find a campsite just north of the Golden Gate Bridge in San Francisco. I plan to stay there two days. Hit Fisherman's wharf and Alcatraz. I was going to go to a motel but they are too expensive. After this I am heading to Oakhurst, California. It's near Yosemite. I will stay at a motel there then go into Yosemite Valley. I have reserved a campsite for 3 days in Yosemite starting Oct. 1.
The fog has burned off around here so I better continue on.  Shoot me an email and keep me posted at what you are doing too.  I miss chatting with people.  Since most family and friends are east coast, you guys are usually asleep by the time I have set up camp and settled.
I will post more soon…